My Farmhouse Kitchen Gallery Wall
Hello, friends!! It's been a while since I've done a décor post! And so I'm super excited to be sharing my farmhouse kitchen gallery wall with you today. But first, for some real talk: I love, love, love home décor. However, I am not equally as passionate about cleaning. What do the two have to do with each other? Your space needs to be clean to photograph. Four kids, one giant pup, a farmer, and, well, life can make that a difficult feat sometimes!! But this space is clean-ish, so let's dive right in!
I really love gallery walls! I currently have five in my home. In fact, after we built this house, my husband once told me that he believed my goal was to cover every inch of wall space! I did leave *some* blank wall space, but I am a firm believer that gallery walls can make a huge impact. They can be functional, tell a story of who you are, and be a beautiful focal point in your home.
The process:
When it comes to gallery wall rules, I don't really believe there are any hard and fast must follows. Except you need to love it. Often times, I've found people are so eager to put up their wall, they can rush the process and settle on some pieces. Take time to really envision just what you want for the space (Follow along with my Home Décor Pinterest Board for more décor inspo). Next be willing to give yourself some time to acquire your pieces. Ask yourself, is this just a filler, or do I love this piece individually? This will help to ensure you love the space as a whole. I also personally like to mix it up with different textures, materials, and types of pieces.
For my Kitchen Gallery Wall:
I chose to go with neutral tones for this wall accenting with natural woods, metal, blacks, browns and grays.
First, the sign. I am so pleased with this custom sign from Between You and Me Designs. Using our farm name + date we got married adds such a special, personalized touch. It is one of those forever pieces that I always imagine somewhere in our home. Use coupon code summer25 25% off your order.
Second, the basket. This seagrass basket with black beads adds just the right dimension to the gallery wall. I love the depth it brings to the space by adding texture, color, and pattern. The basket as wall décor is currently very on trend, but also super versatile to be used as a functional basket as well. You can shop all of Cloth + Cabin's home décor here. Use coupon code: MIDST10 for 10% off your purchase!
Third, the pictures. I am such a fan of using photography of the ones you love as décor in your home. It shows who you are and where you've been. I like using both frames and canvas together to add visual interest. You can find similar frames here: Grey Wood Double Frame, Natural Wood Double Frame, or Multiple Picture Frame.
Fourth, GRACE. These letterpress blocks are my favorite combo: wood and metal. But moreover, I love that the word can be interpreted as a double meaning. To actually say grace around the kitchen table. As well as, the amazing grace given freely by Jesus. These letter blocks are no longer available, but this metal grace sign gives a similar look and feel. As well as this beautiful wooden thy kingdom come set.
The finished product:
Thanks for checking out my farmhouse kitchen gallery wall! Do you love gallery walls as much as I do? If so, how many do you have?
If you liked this post, check out:
Summer Front Porch Reveal, Best Small Shops to Shop, and Spring and Summer Pillow Round Up
Mama in The Midst contains affiliate links. Thank you for clicking around my site. I appreciate you!!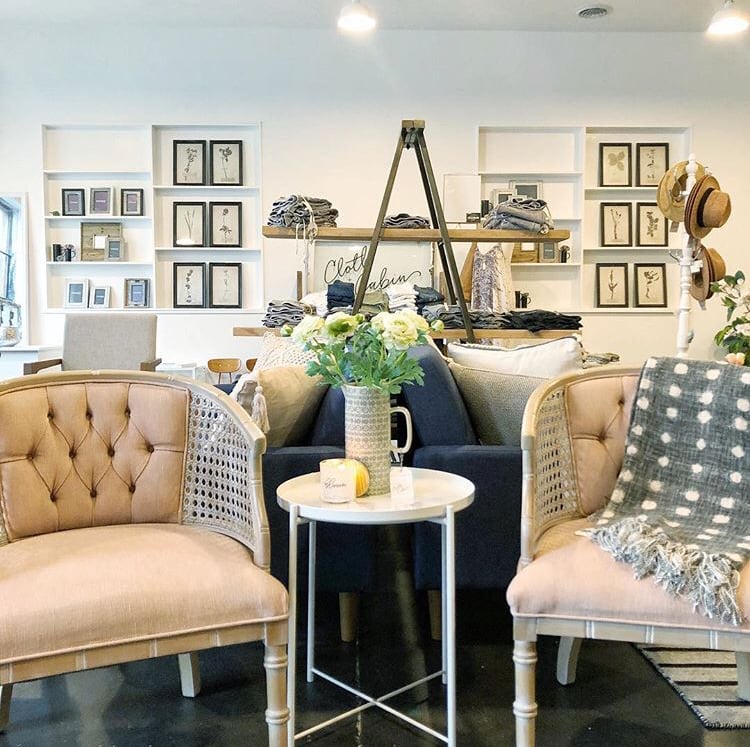 (Visited 586 times, 4 visits today)